There are four options for students who do not remember their password. Three of these are accessed by clicking the Reset Password link on the login page at Student.TotalRegistration.net.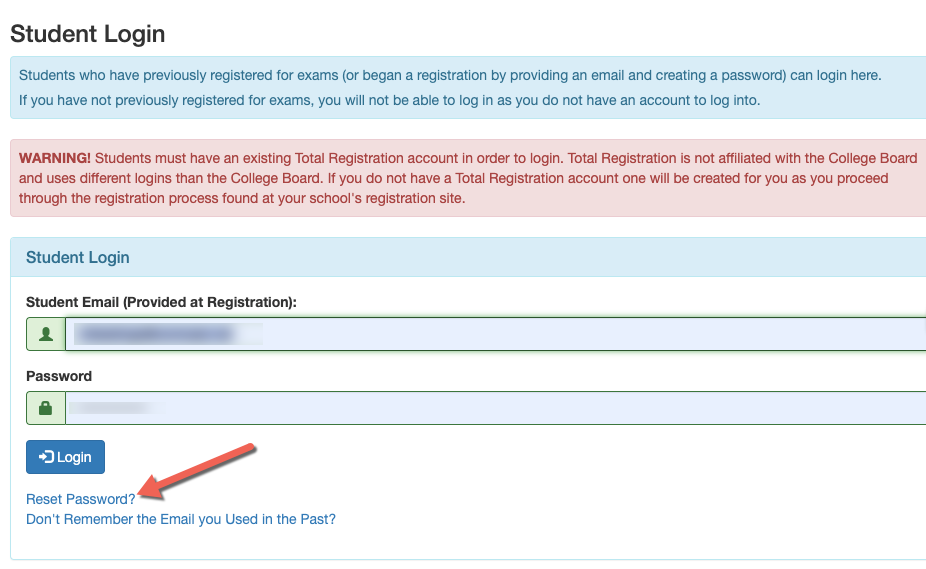 We recommend trying the following in this order:
1. Talk to other family members. Figure out which family member completed the registration in the past and ask them for the email address used and password that was created when registering.
2. Have the system email you a link to reset the password. When using this option, a password reset link will be sent to the following:
Emailed to the student email address on record
Emailed to the parent email address on record (if a parent email address was provided).
Texted to the student's cell phone (if a student's cell phone number and carrier were provided).
Please be sure to check your Spam/Junk filter as some email clients will quarantine these types of emails. Unfortunately, there are some email providers that will also block emails from TotalRegistration.net. If you do not receive a link via email, try the other options below.
3. Use the Challenge Question/Answer to reset your password. During the initial registration, a Challenge Question and Answer were created. Please be aware that the answer is case-sensitive and must be an exact match with what was entered when the answer was set up.
4. Contact your school to have the testing coordinator reset your password and/or email. This is the option of last resort and should only be used after the first two options are exhausted. School staff are busy and typically work only during school hours so responses may be delayed.