There are many reasons why a student may not see or be able to select a particular exam during the registration process.
If a particular exam is not listed on your school's registration form, please check the following as a way to troubleshoot:
Is the exam active in your school's configuration? Go to the Manage/Set Up Exams page for AP or IB and verify the exam is active (green checkmark).
Did you configure a cap for the number of students who can register for the exam and have now met that cap? Go to the Manage/Set Up Exams page for AP or IB, click the edit link for the particular exam, and see if a maximum number of students is listed. You can then go to the Report Center to view the individual exam roster to see if the number of registrations has been met for that particular exam.
Coordinators have the ability to only show second-semester exams for AP courses after a particular date. Did you choose this option at AP > Configure AP Registration > General Info and wish to have a student register for a full-year or first-semester course exam after the cut-off date? See Allowing students to register only for AP exams linked to courses that begin after initial order deadline (second-semester course) for more information.
If the exam does show on the Exam list on the registration form but the student is unable to select it, then check the following for possible reasons:
Was the student previously registered for the exam at your school and then the registration was canceled? You can see how to check the Dropped Exams report and how to reinstate a canceled/dropped exam at Reinstating a canceled exam.
Was the student's exam request denied from a waitlist? You can see the students who were denied from the waitlist and how to reverse that action at Managing denied waitlists.
Did the student register for the exam at a different school? The student can log in to their existing TR account at TotalRegistration.net and click to view their Account History to see if that particular exam is registered or waitlisted elsewhere.
You can use the Search Students & Check Exam Availability report to see why a specific student cannot register for a particular exam and/or to view the student's entire exam registration history in Total Registration. To reach this report, go to AP > AP Report Center > Edit Student's Info/Exams/Password and click Search Students & Check Exam Availability. Once you search for the student's name, you can click the link to AP, IB, or PSAT to view the current year's exams and any reasons why the student cannot access them. Or, you can click the Student History link to view that particular student's entire registration history within Total Registration.
NOTE: If a student has not previously registered for exams in Total Registration, you will not find an entry for the student.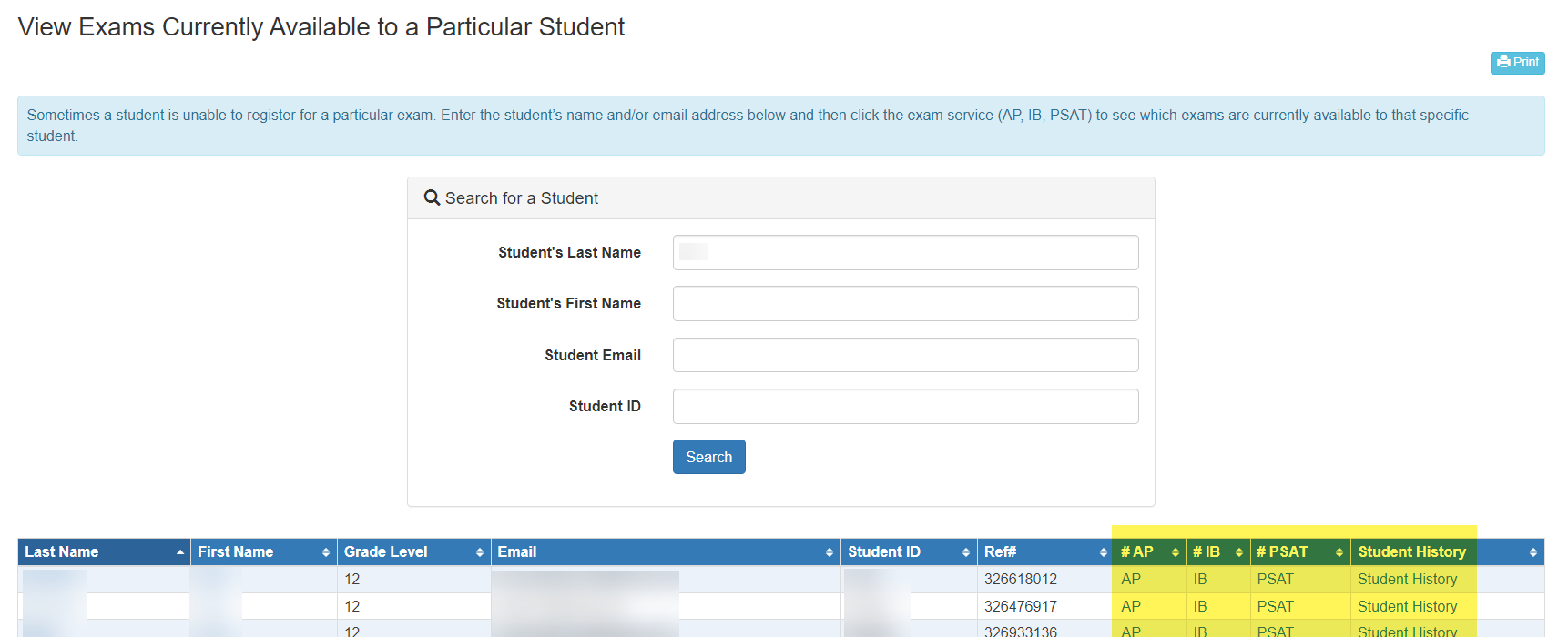 If none of these troubleshooting measures correct the issue for your students, please contact Total Registration's support staff.