The College Board may require your school to provide a Join Code to each student in each AP class and have the students "enroll" via the College Board's website for their AP exam and resources (this change will be mandatory for all schools in the 2019-2020 school year). The College Board will provide the Join Codes to your school/teachers to share with students. You may enter the codes into Total Registration and the system will automatically provide students the join codes for all of their courses at the end of TR's registration process.  This process removes the need for teachers to individually distribute their unique join codes to each class and reduces errors with the enrollment process.
To add a Join Code, you first must configure your AP exams, Teachers, and Periods. Once you have linked teachers and periods to the AP exams, you can go to AP > Manage/Set Up AP Exams > Manage AP Exams and click Add Join Code next to an exam name.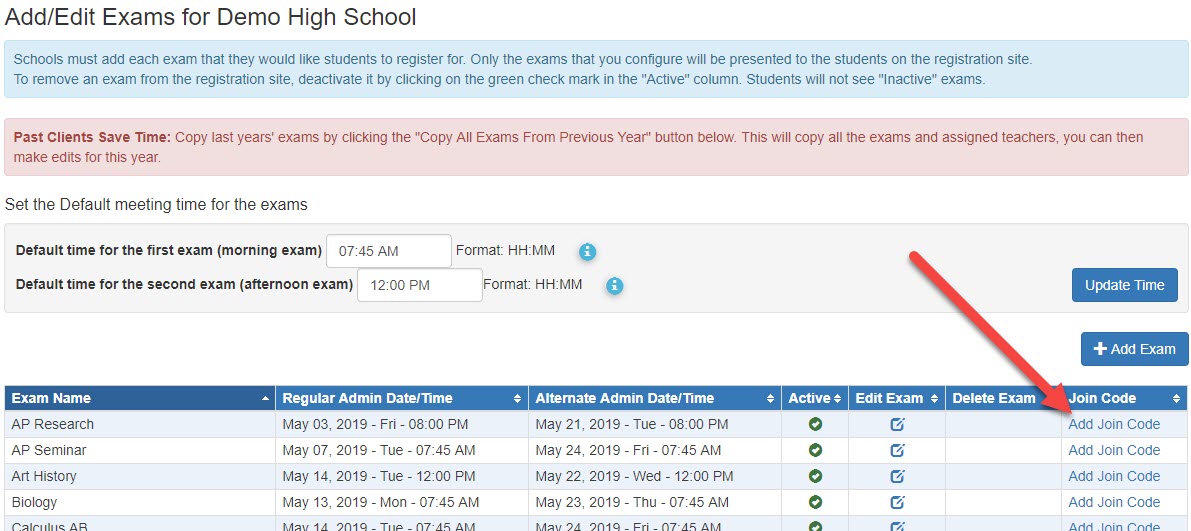 You can then enter the Join Code next to each teacher and period linked to that particular AP exam. Click Update Join Codes when finished. 

You can also click View Configured Join Codes to view the Join Code Report, which shows all join codes already entered for your school.

After students register in TR they can access their unique Join Codes three ways:
TR will display them on the confirmation screen with directions of how to register in the College Board's system.
TR will send a pdf attachment that with the confirmation email that has the student's unique join codes.
Students can view their join codes in their TR account by accessing the Student's Account History.