To assign proctors to the exam, you first must add the proctor's name to the list of proctors and then select the proctor for the exam. Go to the service's menu and choose Configure AP Registration > Manage/Set Up Proctors. Then you can click the Add Proctor button to create your list of proctors.
For PSAT/NMSQT proctors, once you add their information to the Manage/Set Up Proctors page, you can link the proctors directly to their rooms when you choose Link Rooms to PSAT from the Room Assignments/Seating Charts link in your PSAT Report Center.
For AP and IB proctors, you can remain on the Manage/Set Up Proctors page and edit each proctor to add additional information for that particular proctor. You can choose which AP and/or IB exams that particular proctor can oversee plus any date/time availability conflicts. For example, in the below screenshot, we show this proctor is a former history teacher so she should not oversee any history exams. We unchecked the history exams so she will not be seen as an option to choose when you link proctors to those exams. Also, this particular proctor has a conflict and cannot help with morning exams on May 4, so we unchecked that timeslot. You will not see her as a proctor option when linking proctors to any non-history exams that are scheduled for the morning of May 4.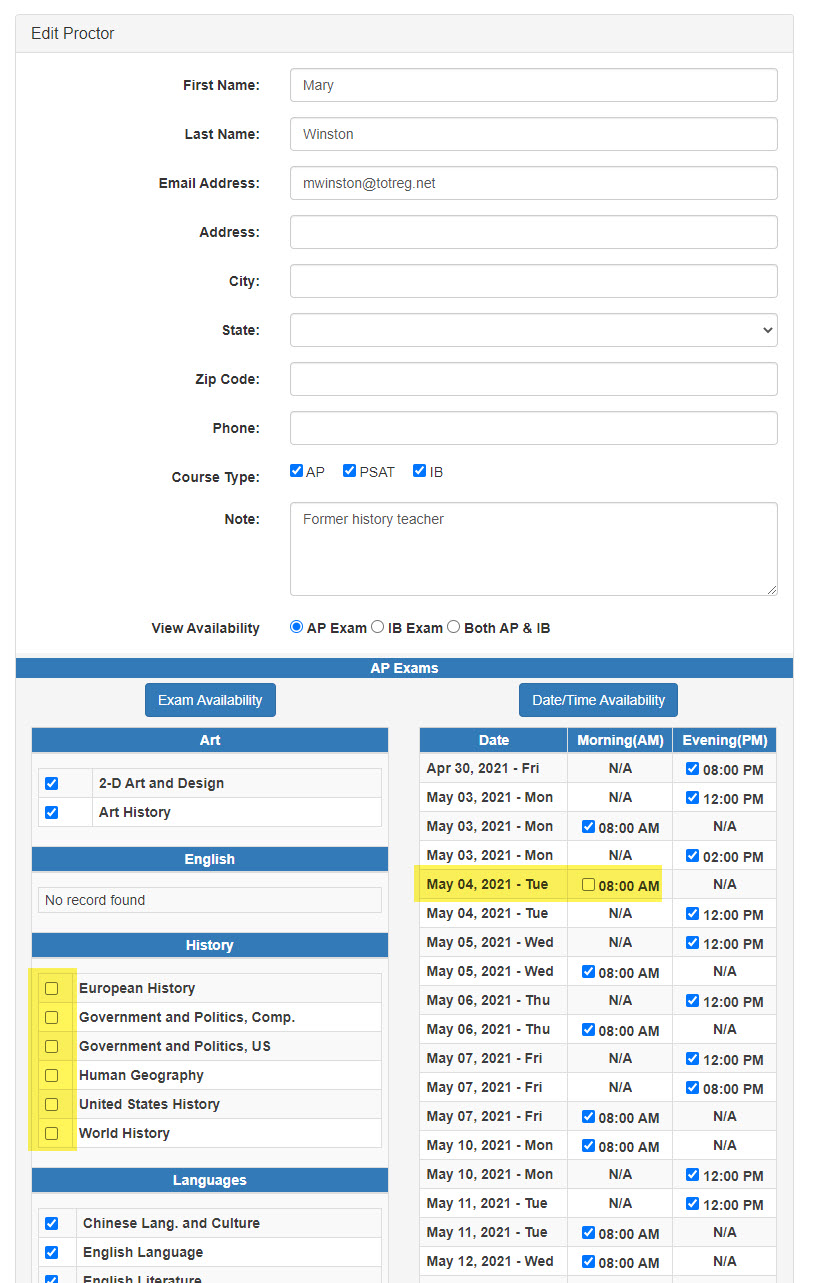 Note: Odd exam times (such as 8:00 PM) indicate you are only offering AP courses with submissions instead of exams on that date/time. Courses with submissions instead of exams do not need proctors and/or rooms assigned.
Once your list of proctors is created, go to AP > Manage/Set Up Exams, click the exam to edit, and select the proctors to link to that particular exam.